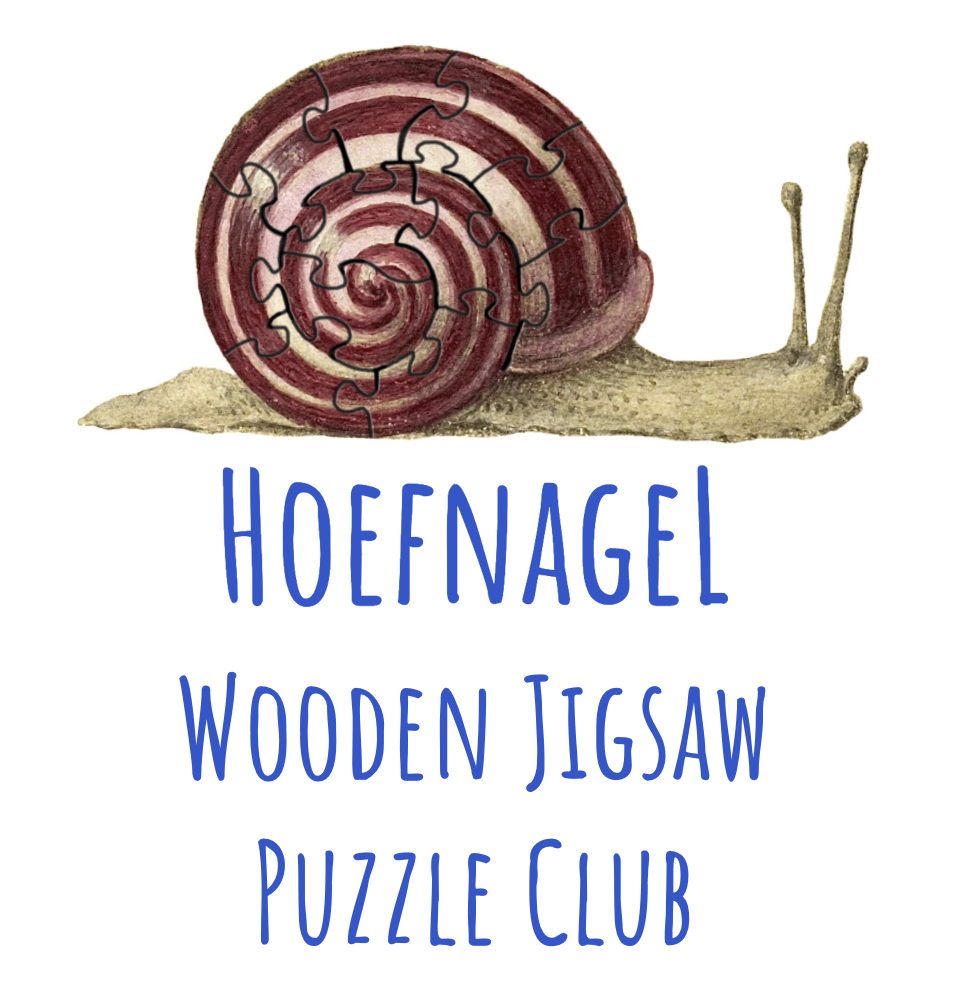 Join the Hoefnagel Wooden Jigsaw Puzzle Club to enjoy our library of over 400 different high-quality wooden jigsaw puzzles.
See all the puzzles, and start creating your wishlist:
Browse The Library
What Are Wooden Jigsaw Puzzles? High-end jigsaw puzzles are cut from sheets of wood, often 1/4 inch thick. The puzzle pieces come in all sorts of different shapes, with some having special "whimsy" pieces in recognizable shapes like seahorses and people. Wooden jigsaw puzzles are an art form: some have irregular and elaborate edges, others are cleverly designed to be devilishly difficult. Traditional wood puzzles are hand-cut using a jigsaw, but many of today's best puzzles are cut by lasers. Learn more about wooden jigsaw puzzles.
How Does This Puzzle Club Work? It works like old-school netflix but for puzzles: you keep a list of which puzzles you'd like to do from our list of puzzle packs (most packs have two puzzles). We send you puzzles from as close to the top of your wishlist as we can. When you're done, click a button to get a prepaid shipping label (your choice of USPS or UPS), ship it on, and we'll send you a new pack from your wishlist in a few days.
How Long Can I Have With Each Puzzle Pack? Keep each puzzle pack for however long you want.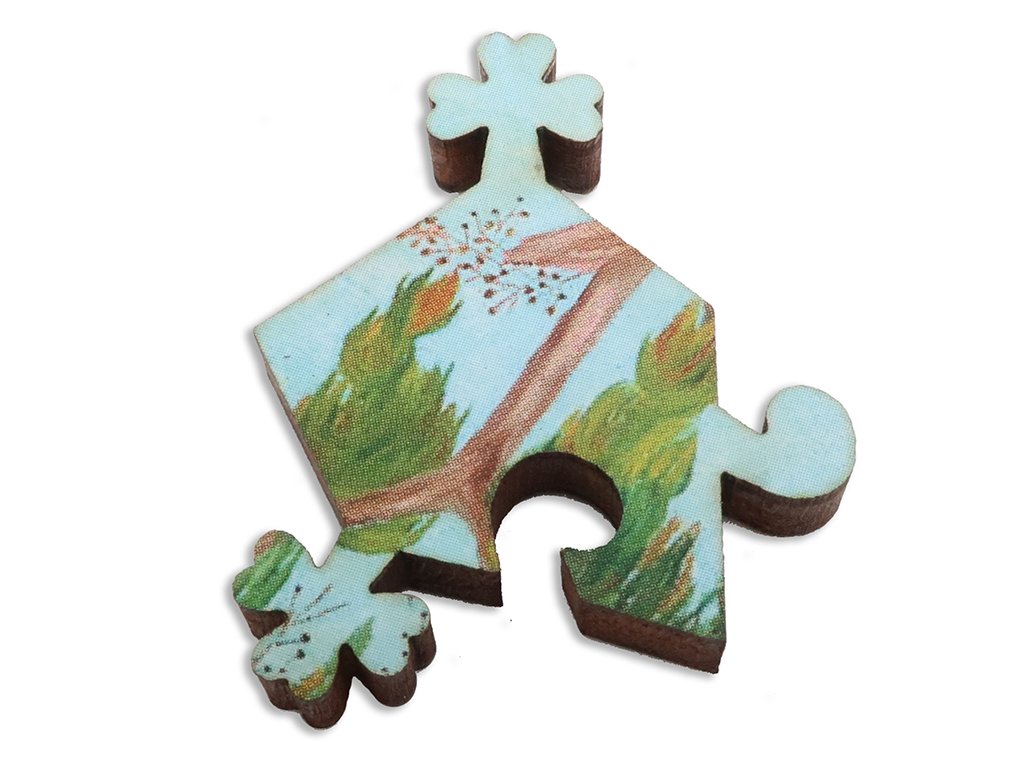 What Puzzles Does the Hoefnagel Club Have? We have over 400 different high-quality wooden jigsaw puzzles from more than 12 puzzlemakers. We have almost all the Artifact and Ecru puzzles, and we also have a wide selection of other laser-cut puzzles by DaVici Puzzles, Stumpcraft Puzzles, Wentworth Puzzles, Liberty Puzzles, Nautilus Puzzles, Nervous System Puzzles , Whimsy Puzzles, and Artistry Puzzles. We also have a good set of challenging hand-cut puzzles by Mr. Gogo Puzzles, Puzzlewood, BCB Puzzles, Thom Spencer Jigsaw Art, Snowflake Puzzles, Maridale, CobbPodgery, and Wild Poppies Puzzles. We are adding new puzzles every week! See all the puzzle packs we're currently offering in our Library.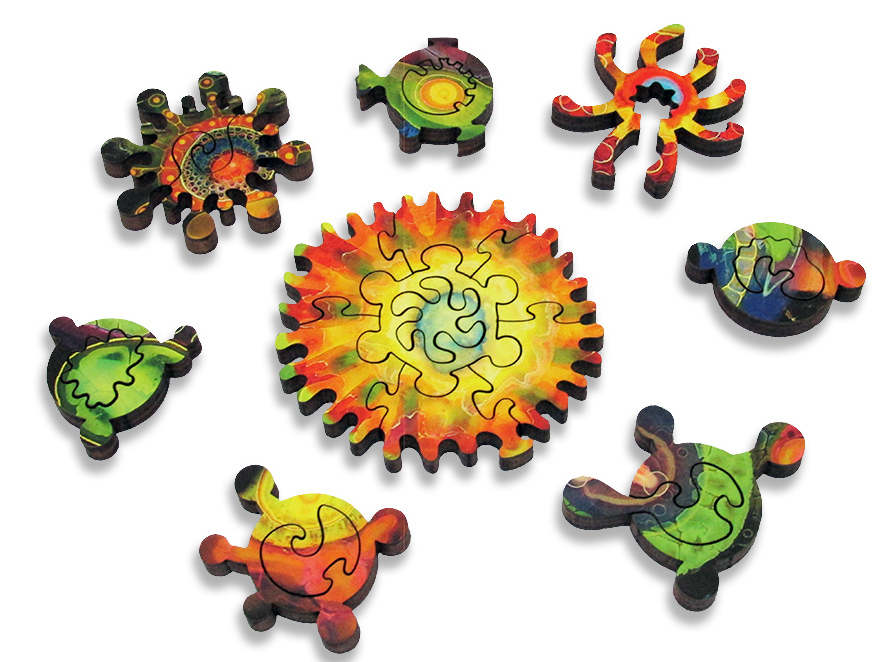 Do I Have to Go to The Post Office To Return Puzzles? For many addresses, you can arrange for your mail-person pick it up from your front door, but you can also drop your puzzle pack off at the post office if you like (and some UPS stores or FedEx stores will accept USPS prepaid labeled packages for drop-off).
Cost? Pay $360 for a 1 year membership, or $195 for a 6 month membership. You also pay a flat shipping fee of $11.50 to ship out each puzzle pack once you are done with it. For example, if you'd like to do 20 wooden jigsaw puzzles this year, you could buy 20 quality wood puzzles for around $2,000, or you could join the club for $360 plus pay for the shipping of ten packs-of-two-puzzles at $11.50 a pack for just $475 to enjoy your choice of twenty wood puzzles at your pace over the next 12 months. Or, say you only want to do 6 woodn jigsaw puzzles this winter - buying them would cost you around $500, but you would pay only $229.50 for the 6 month membership plus shipping fees.
Yes, I Want This! How Do I Join? Welcome to the Club! Sign up here for a 6 month or 12 month subscription. Your first puzzles will arrive in 1-14 days.
Can I Try It Out Before Committing? Yes! You can see all our puzzles and start selecting which ones you'd like on the Browse page. We will send you an email to login (if you don't see the email within one minute, make sure your email is refreshed and up to date, and check your spam folder.)
What Do Current Members Think? You can read full customer reviews this page and this page. Here are some comments from members:
"Super pleased! So many puzzles."
"I love the puzzle club! It gives me the opportunity to try puzzles that I normally wouldn't buy either because of the cost or because I wasn't sure I would like it."
"I really like how it's not just a monthly puzzle subscription- I appreciate having the flexibility to do more puzzles in a shorter amount of time, and then if I need to, I can hang on to a puzzle longer if work or school gets busy for a while."
"It is making me so happy."
More Questions? More answers on our FAQ.
Brought to you by Wooden Jigsaw Puzzles Club LLC, established 2020.